As mentioned in my last post, I am trying to get a little culture every week with my friend Lara. Last week we visited
Frederic Leighton's recently re-opened home in Kensington
. I didn't know, well, anything really about Leighton until we decided to go there; as I learned, he was one of the most famous artists of the 19th century and often associated with the Aesthetic Movement. This house was built to his own specifications and is just plain stunning.
Having been working in a yarn shop for the past couple of months, I have begun to have a new appreciation - and awareness of - colour. My
green Manu cardigan
(finished last week and pretty much worn every day since) was my first departure from my usual palette of purples and burgundies and my visit to the
V&A's quilt exhibition
had me buying fabric in prints I wouldn't normally have considered.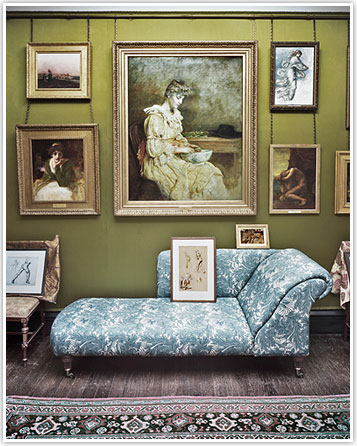 (photo credit: Leighton House Museum)
So I feel like I was able to appreciate Leighton's House more fully than I would have three months ago. Every room was a different experience, and every room presented a new combination of colours that I never would have expected to work together. The first part of the house that you enter, the Narcissus Hall, is probably my favourite. It is lined with tiles in the most amazing shade of peacock blue with a gilded ceiling. Leading off this hall are the study, with a gorgeous green marble fireplace and William Morris Curtains. Opposite is the drawing room, with a turquoise painted wood floor and an enormous, colourful, Venetian glass chandelier. There is so much more - a dining room decorated in many different shades of red, the Arab Hall, deocorated with Middle Eastern ceramics and textiles, and another one of my favourites - the Silk Room, lined with olive green silk panels and also incorporating Italian art, Middle Eastern woodwork and more William Morris fabrics. If you're not in London to see the house in person, then I would highly recommend the
virtual tour
on their website (although some of the pictures don't appear to be completely up to date with the amazing restoration work they've done).
One of the wonderful things about this place is the way they've restored all this colour. Because the house was in the ownership of several others since the artist's death, the conservationists had to do some detective work to figure out exactly what it looked like when Leighton himself occupied it. They were able to read letters visitors wrote to friends (one mentioned having the same curtains as Leighton), newspaper articles and diaries to obtain clues, and then scratched through the many layers of paint to find the exact colours that were on the walls in his time and replicate them. I am also really excited to see that they have a talk coming up in June called
Textiles and Wallpapers at Leighton House Museum
, and you can bet I'll be there.
You'd think by now that I'd be in colour overload and ready to knit in several different shades of grey, but I'm afraid it's exactly the opposite. It looks like I can say officially that I am now a shawl knitter, and this one is
my Ishbel
, knit in the most gorgeous yarn -
Malabrigo Lace
.
Malabrigo has an amazing range of colours, and as I am feeling very colourful, and very much like spring recently, I couldn't knit it in anything but this shade: Frank Ochre.
For more inspiration on colour combinations and shades check out
www.colourlovers.com
- I find this can be really useful for colourwork in knitting, decorating a room, and hell, just getting dressed.
_______________________
p.s. If you plan to visit Leighton House, you'll obviously need tea after. Lara and I went to the lovely and unpretentious
Muffin Man Tea Shop
near Kensington High Street. Any place that has cakes named after recently deceased members of the royal family is ok by me.